Edifier Stax Spirit S3: Two-minute review
To gaze upon the Edifier Stax Spirit S3 is to see a pair of great-looking, chic, comfortable and portable wireless planar magnetic headphones with hi-res audio certification – and by hi-res, I mean Qualcomm's Snapdragon sound with aptX Adaptive, aptX HD and regular aptX, so they cover all of the current top-tier wireless audio coding.
They adopt Edifier's latest proprietary planar magnetic technology using 89mm x 70mm planar magnetic driver units, which offer a frequency response of 20Hz~40KHz and I believe deliver some of the most accurate, crisp, meaningful sound reproduction of any of the best wireless headphones market at the price.
The Stax Spirit S3 support Bluetooth 5.2 for (meaning Auracast will likely soon be on the menu) and you'll get around 80 hours of playtime. Read that again. That's more than any of the best noise-cancelling headphones currently on the market. Also, a short 10-minute charge delivers a whopping 11 hours of playtime and there's a mic for aptX Voice certified call-handling to boot.
But planar magnetic closed-back over-ears with a Bluetooth chipset must mean heavy and cumbersome, right? Not at all. At 329g they're comfortable for all-day use – but if that's just a number, consider that Apple's AirPods Max weigh 55g more at 384g, while Sony's WH-1000XM5 are a little lighter at 249g. Also, they fold up into the headband and come with a refreshingly small hard case for transport.
Confused by the name? You're not alone, so for clarity: these Edifier headphones are not to be wrongly assigned to the STAX brand (although Edifier did acquire this brand name in 2012), although they do use magnetostatic transducers in the "Spirit" of STAX. Also, they have been closely linked to Audeze's Mobius headphones, just with new branding. Got it? Good.
Whatever their heritage, they are all Edifier now – and if you read no further, know that they're a compelling and talented proposition. You even get an additional set of cooling-mesh ear cushions for season-specific on-the-go use, along with a USB-C charging cable, 3.5mm headphone cable for wired listening, a 6.35mm adapter and an 'ear cushion pick' which you'll only need to worry about if you're switching up.
The Edifier Connect app is acceptable rather than excellent, but it functions without issue and as any audiophile will tell you, companion apps can largely be ignored if the design and sound quality is good enough to avoid fiddling – and that is emphatically the case here.
Any flies in the ointment? One: no active noise cancellation. Whether or not you really need it when the sound quality and passive isolation is this good is up to you. If you prioritize an expansive soundfield and crisp detail with a more-than healthy bass extension though, put these headphones at the top of your list.
Edifier Stax Spirit S3: Price & release date
Released on February 24, 2022
Priced $399 / £330 / approx. AU$640
The Stax Spirit S3 were released in early 2022, and as such there might be a little bit of wiggle room on the prices above – but not a lot.
This not insubstantial pricing puts them bang up against some of the best and most heavy-hitting over-ear headphones in the business, including the Sony WH-1000XM5 ($399 / £380 / AU$649), the Sennheiser Momentum 4 Wireless ($349.95 / £300 / AU$549.95) and the Bowers & Wilkins PX7 S2 ($399 / £379 / approx. AU$575).
Tough company to keep, especially when you consider that active noise cancellation doesn't feature. But sonically, they're more than up to it.
Edifier Stax Spirit S3: Specs
Swipe to scroll horizontally
| | |
| --- | --- |
| Drivers | 70 x 89mm planar magnetic |
| Active noise cancellation | No |
| Battery life | 80 hours (but we found up to 90) |
| Weight | 329g |
| Connectivity | Bluetooth 5.2, 3.5mm (6.35mm adapter) USB-C charger but no audio passthrough via USB |
| Frequency range | 20Hz-40KHz |
| Waterproofing | No |
| Other features | Spare earpads supplied, foldable design |
Edifier Stax Spirit S3: Features
Incredibly long battery life
Bluetooth multipoint
Somewhat limited in-app EQ presets
As stamina claims go, 80 hours is insatiable in almost any arena, but particularly concerning wireless headphones – and during my time with them I actually gleaned just over 90 hours from them before they seemed even a bit tired. It's rare that during the course of a review I need only charge a set of over-ears once, and even then only for 10 minutes or so – thus netting a further 11 hours.
These headphones are very easy to pair, very quick on the uptake where the app is concerned and easy to use, too. Multipoint? Completed it; soon I'm happily chopping and changing between my phone and my laptop all the livelong day.
As you might have spotted, there's no ANC or Ambient awareness here, and no auto-off functionality, but that doesn't mean Edifier sees no reason for a companion app. The Edifier Connect app is fine, but that's as far as I can go. It tries to cajole you into buying Edifier products a little too readily (with two "Discover" and "Mall" tabs at the bottom of the landing page sending you off to discover and shop Edifier exclusively), but the headphones tab gives a good battery life indicator and interestingly, asks you to confirm whether you've fitted the "Leather earmuffs" or "Ice feeling earmuffs" in order to better tailor the sound.
There's an unusual "Soothing sounds" section tab in the top right, which offers a plethora of free soundscapes such as "summer night" (no, not the song from Grease) "lapping waves" and even a mewing cat. I mean, it adds a modicum of value, perhaps. The app also displays the music currently playing in the way your streaming service does and in the settings tab, you can customise the volume of vocal prompts and tweak the functionality of double and triple presses between pause/play, gaming mode, sound effects (more on this in a moment) or voice assistant access. Call quality? Splendid – clear and snag free.
The EQ presets are a let-down, though. The second, swipe-left screen within the app is labelled "Sound Effects" and it lets you pick between "Classic", "Hi-Fi" and "STAX" profiles. There's no tablature for this, though, and while Classic is a hands-down favorite owing to its extra modicum of warmth and zeal, STAX feels borderline tinny and hi-fi lacks a bit of oomph but doesn't unearth any extra iotas of detail – because these are already supremely detailed cans sonically. What I'm saying is, giving users the option of five- or even three-band sliders to augment certain frequencies would be preferable.
The third screen is purely for gaming mode on, or off, which is all well and good. In the end, though, dedicated audiophiles will doubtless try not to touch such fripperies; happily, the sound quality here is good enough that bypassing the app entirely is no bad thing.
Edifier Stax Spirit S3: Sound quality
Divinely detailed and revealing
Snappy bass extension; depth in spades
An expressive and dynamically agile listen
They sound so good, these. Oh, you need more words? Right then.
Bruce Springsteen's re-release of Darkness on the Edge of Town live with with the E-Street Band (streamed; a Tidal Master file) is brimming with emotion, revealing any minor deviations in the keys and raucousness from the excitable crowd in a gloriously detailed mix.
Burna Boy's Anybody on Apple Music (a Lossless file) unearths emotion and textures in the vocal rarely heard at this level and there's a glorious three-dimensional quality to the drums and sax solo, even as the percussion goes low.
Nicki Minaj's Super Bass (Tidal HiFi) bursts through with a juicy, full and cohesive mix that darts between each ear with the kind of spritely agility normally seen in wired headphones at double the price.
Gerry Cinnamon's Belter is a lovely example of pared back rhythmic guitars and backing vocals, which are expertly layered and relayed here with ample space around each element to shine. If anything, the added stems here as the track progresses (the crack of a whip, a chanting crowd, the shake of a rattlesnake's tail) feel a little lonely – but that's certainly not a criticism where the Edifiers are concerned; quite the opposite. Because these headphones can do so much more.
Is it the same with a wired 3.5mm connection? Not quite. The presentation lacks just a little conviction when physically wired to a Sony Xperia or an iPhone – although that's something that few of us will do, given the incredible battery life and convenience offered here. And in case it needs to be re-stated, there's no USB audio option.
Edifier Stax Spirit S3: Design
Additional pair of cooler earcups supplied
Foldable design
Multi-function button is a shade off excellent
If you miss folding headphones (not seen in the heavy-hitter arena since the Sony WH-1000XM4), they're back here and it does make taking them on your commute – or in your hand luggage – much easier. The supplied case is only about a half to two-thirds the size of the ones supplied with products such as the Sennheiser Momentum 4 Wireless, Focal Bathys or newer Fairphone FairBuds XL.
The design here feels light and cool, with optimal clamping force, and the lovely herringbone accents and gold branding on the black earcups make for a chic aesthetic – though vegans should note that these do include real leather.
The ear cups angle forward just slightly and the headband is nicely padded over the crown, which makes these cans feel well weighted and good for longer listening sessions. And the sound bleed? Minimal; people on desks next to me couldn't hear my tracks at 50% volume in the office.
There are some minor drawbacks. The ear cups rotate to lie flat around your neck when not being worn, but only outwards, which feels entirely wrong for those planar magnetic drivers. The headband is also overly clicky when adjusting for size; a pet peeve but the noise does impact your listening pleasure. Lastly, the multi-function button and volume buttons either side of it are just a bit hit and miss for this level. It's a critique I also levelled at the more-expensive Focal Bathys, but when a long press is meant to turn the headphones off and sometimes, this just doesn't seem to work, it's worth mentioning it.
Overall though, it's important to state that these are a good-looking, comfortable set of over-ears. Furthermore, their portable design, coupled with the splendid sound quality, makes me grab them over several other sets when heading out.
Edifier Stax Spirit S3: Value
Sound quality that's impossible to beat at the level
A great gateway planar magnetic design
No ANC impacts value for some
What you must know is that if you want ANC over-ears, your money is not well spent here. There is no active noise cancellation.
Buying headphones almost always involves some sort of compromise (a dearth in call quality, omission of a codec, lack of water resistance), but for sound-per-pound clarity and quality in a planar magnetic wireless design, the Edifier Stax Spirit S3 are almost impossible to equal.
The detailed, expansive and energetic sound is the star here and for me, that's just fine – plus it lasts and lasts (and lasts), for days. The case is beautifully light and compact – I have to say that I've taken these headphones on a flight and loved the experience, despite the lack of noise cancellation.
Then again, the app is a long way from excellent and the EQ presets are somewhat eccentric, plus I do find myself wondering why the ear cups turn outwards when I take them off quickly to leave them around my neck.
Depending on your priorities, the Edifier Stax Spirit S3 still represent a top and TechRadar recommended buy – it just might be that a lack of noise cancellation means they're not the right pick for you.
Should I buy the Edifier Stax Spirit S3?
Swipe to scroll horizontally
| Section | Notes | Score |
| --- | --- | --- |
| Features | The longest battery ever tested, but then there's no ANC | 4/5 |
| Sound quality | Simply some of the most detailed, analytical and agile cans at the level | 5/5 |
| Design | Some oddities, but they're supremely comfortable and portable | 4.5/5 |
| Value | If sound quality is king, they're a top buy. Want noise nixing? That's a no | 4.5/5 |
Buy them if...
You've always wanted to try planar magnetic
As a gateway to the heady and audiophile-populated world of planar magnetic designs, this is a s friendly, cost effective and lovable a set of wireless headphones you could buy.
Sound quality is king
I've gone to great pains to explain it above, but in case you've skipped to here; they sound very very good for the money; as good as cans double and even triple the price.
You want giant battery life
I clocked just over 90 hours of listening with these things, so the chances of you getting caught short en route to work are very low indeed. Also, they fold up to a proposition that can be slung into your bag casually for the ride, rather than carefully slotted in if you don't take lunch.
Don't buy them if...
You want active noise cancellation
No dice here, folks.
Being vegan isn't just the food you put into your body
The pre-fitted ear pads feature real leather. You can switch them out to the cooling set, but that's not really the point, is it?
You're all about EQ tweaks
There are three presets plus a gaming mode within the interesting app (plus a bunch of soundscapes) but if you like playing with a nice five-band EQ tab to get the bass, treble and mids just so, you'll be disappointed here.
Edifier Stax Spirt S3 review: Also consider
Swipe to scroll horizontally
| | Edifier Stax Spirit S3 | Sony WH-1000XM5 | Sennheiser Momentum 4 Wireless |
| --- | --- | --- | --- |
| Price | $399 / £330 / approx. AU$640 | $399 / £380 / AU$649 | $349.95 / £300 / AU$549.95 |
| Drivers | 89 x 70mm planar magnetic | 30mm carbon fibre composite dome | 42mm dynamic |
| Active noise cancellation | No | Yes, adaptive | Yes, adaptive |
| Quoted battery life | 80 hours | 30 hours | 60 hours |
| Weight | 329g | 250g | 293g |
| Connectivity | Bluetooth 5.2, aptX HD, aptX Adaptive | Bluetooth 5.2, LDAC | Bluetooth 5.2, aptX HD, aptX Adaptive |
| Frequency range | 20Hz - 40kHz | 5Hz - 40kHz | 6Hz - 22kHz |
| Waterproofing | None | None | IPX4 splashproof |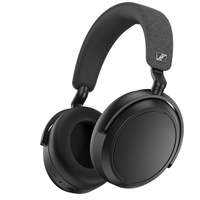 Sennheiser Momentum 4 Wireless
The 60 hour battery almost competes with the Edifiers, plus the ANC and sound zone options are excellent for the money, but these likeable cans are beaten by the Edifier Stax Spirit S3 for sonic detail, bass clout, immersive stereo imaging and insight. Read our full Sennheiser Momentum 4 Wireless review.
Sony WH-1000XM5 review</a>.&nbsp;</p>" data-widget-type="deal" data-render-type="editorial">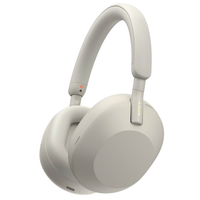 Sony WH-1000XM5
They're great for sound and they open the door to Sony's proprietary LDAC higher-res solution, plus the fully-featured app offers more than the Edifier is capable of – top of the list being ANC. They're a little cumbersome to transport though, and there's no aptX HD support. Read our full Sony WH-1000XM5 review.
How I tested the Edifier Stax Spirit S3
Bulk of testing done using an iPhone 12, running Edifier Connect app, firmware version 1.0.2
Tested across two weeks, listened against the Sennheiser Momentum 4 Wireless and Focal Bathys
Used at work (in the office; walking through London; on a train) on a flight and at home
Listened to Tidal Masters, Apple Music, Qobuz and Spotify on an iPhone 12, a Sony Xperia 1 V and MacBook Pro
As is always the case, to test headphones is to invite them into your life. These cans became my daily musical companion – after a thorough 48-hour run-in period, of course. And very welcome the Edifier Stax Spirit S3 were.
They accompanied me to work on weekdays (walking brusquely to the station; boarding a train and the London Underground; at the office) on a flight to and from Munich and throughout a long Bank Holiday weekend at Climping Beach on the UK coastline – a great way to test any wind-interference from mics during calls.
To better test the comfort levels (and battery life claims), I wore them throughout the working day too – and they never disappointed me or let me down.
To check the audio quality across the frequencies, I listened to various playlists (spanning everything from acid jazz to thrash metal) on Apple Music and Tidal, but also to podcasts and albums on Spotify – plus of course YouTube tutorials (mostly about calibrating a tricksy tonearm on a deck which will remain anonymous) from my MacBook Pro.
I've been testing audio products for five years now. As a dancer, aerialist and musical theater performer in another life, sound quality and the user experience have always taken priority for me personally – but portability and comfort come a close second.
First reviewed: June 2023