The iMac 24-inch is finally getting an update. At least that's what Bloomberg's Mark Gurman says, and it's about damn time.
Although Apple itself hasn't confirmed anything, Gurman says in his report that the manufacturer is set to launch its "next slate of laptops and desktops" this year, including the next iMac, which is at "an advanced stage of development called engineering validation testing."
As one of the best all-in-one computers, the iMac (24-inch, 2021) gave us a much more attractive and better value proposition over its now-defunct 21-inch and 27-inch models with its 24-inch display, fun colorways, and of course, that M1 chip inside. However, unlike all the other Apple silicon-powered computers, all of which are now available with newer chips, the iMac line hasn't received a proper update in almost two years. And, there are several upgrades we'd really love to see.
Luckily, this might be the year for a new iMac. It's very likely that we'll see the new AIO sometime this year. The catch is, according to an earlier prediction, that a new iMac won't roll out "until the M3 chip generation."
And, many are speculating that the M3 chip might not even come out this year. That's despite Apple supplier Taiwan Semiconductor Manufacturing Co. (TSMC) reportedly starting its mass production of next-generation 3-nanometer chips back in December 2022.
Still, it's entirely possible that both the M3 and the iMac (2023) will launch at the WWDC 2023 event in early June and hit the shelves later that same month. After all, the M2 chip will turn a year old around that time, which makes a successor appropriate. Also, the force is strong with the likelihood of a new iMac.
Until we see Apple launch the iMac (2023) at one of its events, it's all conjecture at this point. Still, if you're hoping to update your older iMac 24-inch soon – though it's not as if it's obsolete – it might behove you to start putting some money aside and bookmark this page as we'll update it as soon as we get more information about the next-generation iMac.
Here's everything you need to know about the iMac (2023).
iMac (2023): Cut to the chase
What is it? The follow-up to 2021's Apple chip-powered all-in-one
When is it available? Likely the second half of 2023
What does it cost? About the same as the 2021 models or just a tad pricier
iMac (2023): Release date
It seems like Apple is prioritizing the releases of its very first 15-inch MacBook Air and the first Apple chip-powered Mac Pro that suffered delays late last year.
According to Gurman, "While development of the new iMacs — codenamed J433 and J434 — has reached a late stage, it's not expected to go into mass production for at least three months." This means that while the other MacBook and Mac updates are coming between Q1 and Q2 2023, and despite the first iteration getting an April 2021 release, we won't likely see the iMac (2023) hit the shelves until the second half of year.
That's obviously not set in stone and could, therefore, change. We'll make sure to update this page if that happens.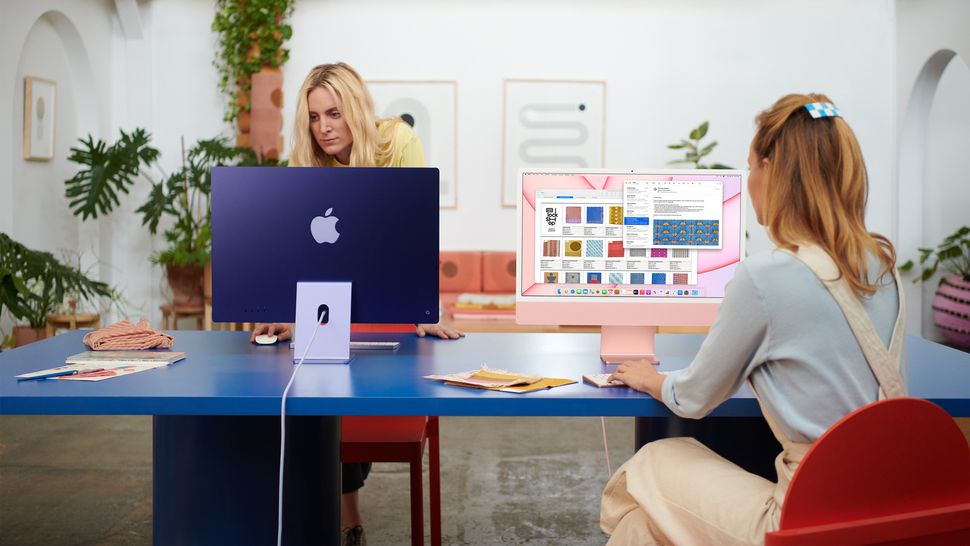 iMac (2023): Price
Sadly, it's too early to tell how much the next-generation iMac 24-inch is going to cost. Though Apple has been pretty good about limiting price increases on updates to its existing models – the MacBook Pro 16-inch (2023), for example, didn't get a massive price increase over its M1 predecessor – so we're hopeful that's the case for the iMac (2023) as well.
If Apple does keep it to around the same price points, you can expect to pay around $1,299 / £1,249 / AU$1,899 for the base model and about $2,499 / £2,449 / AU$3,699 for the most kitted-out configuration.
If Apple does give it a price increase – especially if it slaps on that rumored M3 chip, giving it an excuse to do so – it likely won't be too big of a price jump. Also expect for the Magic Keyboard and Magic Mouse to be included in the price, which reminds us… is Apple going to update both peripherals as well? Both are among the best peripherals we've had the pleasure of using, but we'd love to see them get a fresh design and perhaps some cool new features.
iMac (2023): What to expect
The iMac (2023) rumor mill may have started spinning, but it's still very fresh, which means that speculations and leaks surrounding the next-generation Apple AIO are pretty spare right now. There are, however, two things we know at this point: that the new iMac is going to have the same 24-inch screen as its predecessor, and that it's going to come with the same fun colors (blue, green, pink, silver, yellow, orange and purple) as well.
In addition, despite earlier reports that Apple has no plans to release a bigger iMac, Gurman still believes that "Apple is working on a larger-screened iMac aimed at the professional market" and that it may be planning on releasing at least two ‌iMac‌ models. There's been a lot of speculation that Apple may be reviving the currently defunct 27-inch model, and since there's a lot of iMac users demanding it, it might happen.
Gurman also states that the iMac (2023) will have "some behind-the-scenes changes," referring to an internal redesign (ie where the internal components are located) and a different manufacturing process for attaching the stand. What that means exactly, we'll have to wait.
One thing is for sure – the new iMac (2023) will have a new M-series chip inside. Whether that means it's going to be powered by the upcoming M3 chip or Apple is going to keep it humble with an M2 is yet to be determined. However, as Gurman himself points out, any Apple machine that launches this year with the M2 chip will "quickly become outdated." So, an M2-powered iMac is less likely, especially if Apple plans on moving forward with its every-two-year updates.
As for the rest, we'll just have to wait and see. The next few months will be ripe with leaks and rumors about this next-generation iMac, and we'll make sure to update this page as soon as something big reaches our desks.