Ahead of the Meta Quest Gaming Showcase 2023, Mark Zuckerberg finally gave us our first look at the Meta Quest 3 – his company's next-generation VR headset – and it sounds mightily impressive.
When it launches this fall (September, October, or November) it'll come with high-resolution full-color mixed reality, a graphical performance that's twice as good as that of the Oculus Quest 2, and a body that's 40% thinner than the old-gen model. It'll also come with controllers without tracking rings for improved immersion – however, they lack the internal cameras found in the Pro handsets, so it's unclear how well the Quest 3 headset will be able to map your hand movements.
Best of all, it'll start at just $499 / £499 / AU$829; more expensive than the Quest 2 but cheaper than many rivals including Sony's PlayStation VR 2, the Apple VR headset (probably), and Meta's own Meta Quest Pro.
That last one wouldn't be much of an issue – we knew the Quest 3 would be more affordable than the Pro – but in its announcement, Meta called the Quest 3 its "most powerful headset yet." Maybe it is - but if so, I can't help but feel that's a slap in the face to the people who invested in the expensive Pro only to find it usurped barely a year after launch.
The former VR champ
When the Meta Quest Pro launched in late 2022 it cost $1,500 / £1,500 / AU$2,450, but has since had a permanent price drop down to just $999.99 / £999.99 / AU$1,729.99.
For this, buyers got a headset that lived up to its Pro name – something which felt like a solid improvement over the Quest 2. The Quest Pro's design received a huge refresh, introducing better weight distribution, improved comfort, and a more secure fit; plus the controllers are much more accurate thanks to their in-built tracking cameras.
It boasted new features, too, with the introduction of full-color mixed reality, face-tracking, and eye-tracking. Lastly (my favorite upgrades), the Quest Pro got enhanced specs with its Snapdragon XR2+ chipset, 12GB of RAM, and mini-LED screens that have 37% more pixels per inch and 10% more pixels per degree than the Quest 2's panels.
For people after a more premium standalone VR experience, the Quest Pro delivers. While I still believe the Quest 2 is better value for money – and the perfect choice for most VR fans – mine has been left gathering dust, with the lure of the Pro's advantages too much for me to resist.
Come the final few months of the year, though, it sounds like the Quest Pro will join my cobweb-coated Quest 2 on the shelf. Instead, I imagine I'll be using the Quest 3 – which, as per Meta's announcement, will boast the best performance of all three headsets and Meta's "highest resolution display yet".
What's more, the Quest 3 reportedly has high-quality mixed reality. I haven't tried it myself yet, but people who tested out a Quest 3 prototype said they could easily read their phone screen while wearing the headset. If the Quest 3 that's released to the public performs as well, then its mixed reality passthrough will also be better than the Quest Pro's.
Plus, as I mentioned in the intro, this new and improved VR gadget costs only half what the Meta Quest Pro does (or a third if you compare it to the Pro's launch price).
Not a full-on upgrade
Admittedly the Quest 3 won't be a total improvement over the Quest Pro – chiefly because it won't offer eye or face-tracking. However, while these features are nice to have, they're little more than a gimmick. Save for a couple of App Lab demos and Meta's Horizon Worlds metaverse, no other apps use them.
That's shame, because eye-tracking could facilitate advanced foveated rendering – where a game only fully renders its VR world where you're looking, using the headset's processing power more efficiently, and allowing designers to create more impressive experiences with the same hardware. Face-tracking, meanwhile, could allow multiplayer games to introduce more emotive avatars.
Right now, though, these features are essentially unused. And if that continues to be the case then the cheaper Quest 3 will be an upgrade in all the ways that matter.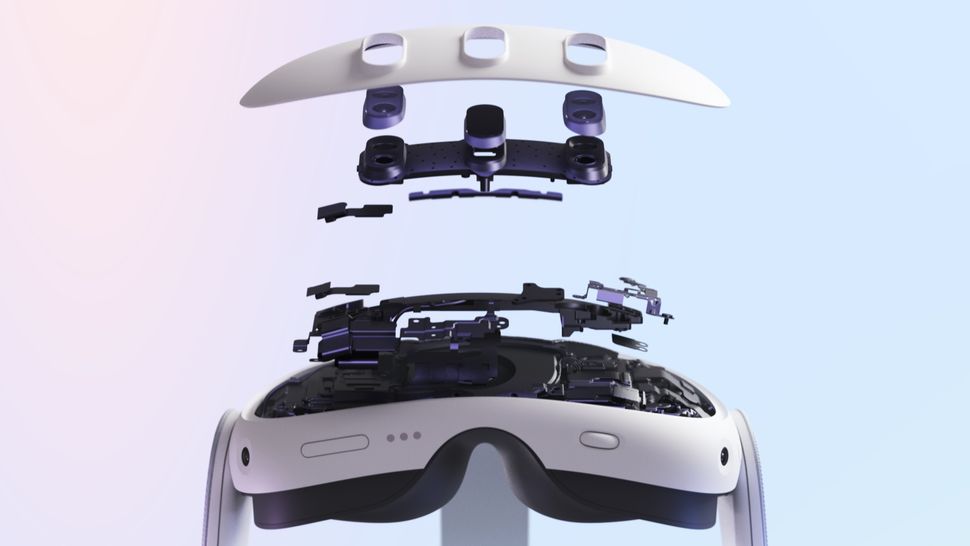 I don't want the take away here to be that Meta should lower the power of the Quest 3 – I'm stoked to see affordable VR hardware get a performance boost. Its announcement just leaves me with a sour taste, as it makes the Quest Pro feel more than a little pointless.
The people who purchased a Quest Pro are among Meta's most dedicated supporters – the ones who saw its plans for the metaverse and decided to go all in. They may not be numerous, but this collective needs to be cultivated and rewarded, not punished by Meta announcing a superior product at a fraction of the cost after less than a year of the old tech being on the market.
Hopefully, Meta and its developer partners will find ways to better utilize the Quest Pro's hardware and give its owners something worthwhile they couldn't get on the Quest 3. And in the future, I'd recommend Meta make the Quest Pro 2 a more major advancement, so that the Quest 4 can only catch up in a few ways, rather than surpassing it completely. If not, it could leave us questioning whether it's ever worth buying the premium hardware, given that a cheaper and better headset is sure to follow.
For now, if you're interested in buying a VR headset I'd suggest ignoring the Quest Pro. Either wait for the Meta Quest 3 or pick up the Oculus Quest 2 – an upcoming price drop now means that it's a great time to buy the Quest 2.