What is the Fujifilm X100V?
The Fujifilm X100V premium compact camera has proven remarkably popular since its launch in 2020 – and we can't say we're surprised. In our Fujifilm X100V review we billed it as "a special camera that's the best of its kind" and consequently rated it the best compact camera overall.
The X100V is the latest in Fujifilm's 1950s-film-camera-inspired premium compacts, and has a fixed 35mm f/2 lens, large APS-C sensor and remarkable hybrid viewfinder. Ever since the first X100 was launched in 2011, the series has been adopted by street and documentary photographers for whom it's a cheaper alternative to Leica, and it's been spotted in the hands of celebrities including David Beckham.
We'd ordinarily expect demand for a camera to peter out over time, yet three years after the X100V's launch, interest in this fifth-generation model has only increased. So what's going on?
Why all the fuss?
Aside from also being one of the best travel cameras, the Fujifilm X100V has naturally tapped into today's film photography trend by virtue of its retro design and its Film Simulation modes that digitally recreate the look of Fujifilm's celebrated 35mm film stock, including Velvia, Provia and Acros.
In 2023, it's a struggle to pick up a 35mm roll of Neopan Acros, for example, because demand has soared, and the cost has skyrocketed. Yet here we have the digital Fujifilm X100V with its 11 Film Simulation modes, which cover a range of looks including vivid, color negative, and black and white. No film needed.
When videos showing off the X100V's divine picture quality and Film Simulation modes started popping up and trending last year on Tiktok sharing, the orders came flooding in – and it certainly helps that the camera itself is super-stylish. We don't often see cameras themselves trending, but growing numbers of influencers and other social media users have climbed aboard the X100V train.
Perfect storm
Social media isn't the only factor impacting X100V availability. We reached out to Fujifilm UK's General Manager of Imaging Solutions, Theo Georghiades, to find out more.
"Launched in February 2020, demand for the X100V has always been high and the camera has never been abundantly available. Of course, Covid had a massive impact in terms of supply chain shortages which meant we were always playing catch up", says Theo.
"Fast forward to September 2022 – whilst still playing catch up as we were coming out of Covid, social media caught onto the unique retro look and feel of the camera itself, combined with the incredible image quality, and demand exploded further from there, making it the most sought-after X-Series camera in the range."
Seemingly, the growing demand for the X100V is outstripping supply to an even greater degree in 2023 than when the camera was launched in 2020, when customers were experiencing a wait of around three months, and you'll do well to get a new Fujifilm X100V this year, even if you order now.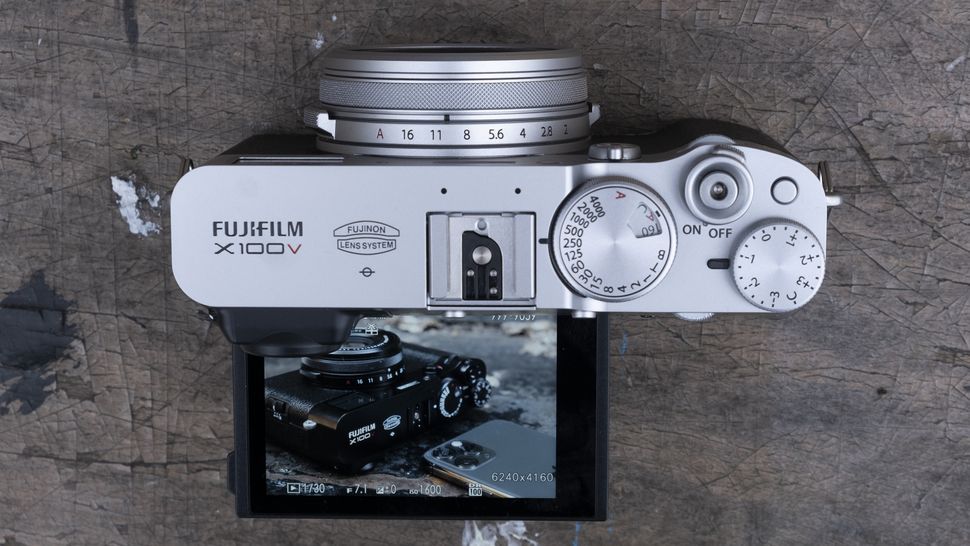 What are the X100V alternatives?
Do you really need the Fujifilm X100V specifically? If it's the camera's retro looks and Fuji's Film Simulation modes that are driving your interest, then you should know that virtually all of today's Fujifilm cameras feature the same range of Film Simulation modes – and most of them don't look half bad.
The list price of the X100V is $1,399 / £1,349 / AU$2,249 and alternatives include the interchangeable lens Fujifilm X-E4, which has similar looks – albeit without the viewfinder – and can be bought together with the XF 23mm F2 R WR lens for a similar price. However, that camera is on backorder, too, though we don't know how long the wait is.
Given that the X100V is a fifth-generation model, you can find secondhand options from reputable dealers on older models, too, including its immediate predecessor, the X100F which is readily available online at the MPB used camera store at the time of writing – although it's held its value, so don't expect a bargain. But if only the X100V will do for your Tiktok creations you're going to have to wait until next year, by which time its successor might have materialized – or perhaps by then we'll have all moved on to the next social media craze.